News
Livoliv – New Venture
I know we're an IT company but we do care about the world we live in. Our family have been involved with these products since their inception. For  Cruelty-Free, Non-Toxic and Vegan Nail Polish as well as other wonderful products please check out our friends website – www.livoliv.com
Latest Testimonial – from another delighted customer!
"Thank you for all your help. My computer is now my friend again and I will have no hesitation in recommending you and your excellent service to all my friends and acquaintances"  – Mrs Allen
New Product – Quickplay LP to MP3 – Great Price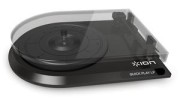 CCM obtains stock of the new LP to MP3 turntable by ION at low price of just £59.99. Software is included and results are better than ever before. Voted Computer Shopper BEST BUY in June 2011.
Website Testimonial
Thank you for designing and "sorting out" the website for us – I am really pleased with the result. Your customer service and responsiveness (and creativity ) has been excellent and much appreciated.
Gill Paige – Clement Rose Consulting Limited
What a week…. another testimonial from a delighted customer
Hi There,
What can I say, it has never been so fast.
Many many thanks.
I shall certainly recommend you to any of my friends who have a problem.
Great service.
Thanks.
Chris Harvey
Cotswold Computer Medic – We're gonna be 8!
Cotswold Computer Medic is 8 years old on Thursday the 5th of December so come along and join in the celebrations! To entice you, we even have birthday cake but be quick as it's sure to be eaten fast!
Testimonial from Jill Chitty
Cotswold Computer Medic has given me great advice, great service and it's always done with a smile. I shall definitely be back – Jill Chitty – The Entrepreneurs Circle, Gloucester
Gloucestershire Independent Networking – GIN
We've  been attending a weekly business networking event at Hatherley Manor for a few weeks now and have made some great contacts and generated some good business!
Thanks for the boost!
Thanks for the new Router!!
My "broadband" speed had dropped to 800Kb.  With the new router  it's now showing over 2Mb. Fastest I have ever had is about 1.5Mb.
Cheers
Mark – Gloucester
Latest Customer Testimonial
Dont you just love it when a customer takes the time to say thanks!
What a Star!!
Dear Steve
Thank you very, very much for sorting my laptop out so promptly.
I can't believe the difference … it is working really, really fast again!